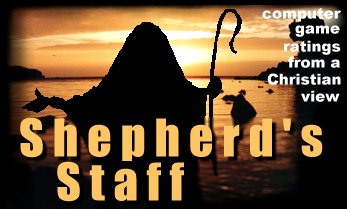 O u r M i s s i o n
To provide information to concerned users on the overall worldview of a software game. We look at how wholesome, uplifting, or offensive a game title may be.

R e v i e w s
Some games have full Reviews written for them. Game-specific review links will be added where applicable linking to Guide 2 Games.




go to reviews for games rated ... [ Exceptional ] [ Acceptable ] [ Marginal ] [ Unacceptable ] [ Unworthy ] [ Interviews ]

Shepherd's Staff

Christian Ratings of Computer Games

A game rated Exceptional is one that promotes moral aspects and is unoffensive to Christians.
"A Professionally Made Christian Game!"

In 171 A.D., you play an understudy (known as a Catechumen) to a Christian leader. Before being accepted in the Christian circle, your sole contact is your mentor. After the required year of training, you can join the Christian community. This precaution is due to the heavy persecution by Rome (and Roman spies passing themselves off as new Christian converts). Unfortunately, your mentor and others get captured and dragged into the catacombs. Who will rescue them from their doom? You, the Catechumen, will attempt to rescue them from the evil minions and possessed Roman guards! If God is with you, who (or what) can stand against you?
Catechumen is a first-person perspective game (generally called FPS for First-Person Shooters). Utilizing both a mouse and keyboard commands, you navigate through courtyards, tunnels and castles seeking the Christians that have been captured. There are lots of creatures that impede your progress by trying to kill you. A list of these creatures are: Roman Soldiers, Demons, Minor Devils, Lions, Microdemons (look like vampire bats), Guard Devil, Sapper Demon, Minotaur, Hounds of Hell, Castle Guard, Fallen Angel, Leviathan and Satan. Each type is different in their attack, defense, and toughness. And some are way more scary than others!
You can find the armor of God that will help protect you (power-ups). These are represented in the game by the torso-part of armor or a shield. And you have your health that can be renewed by finding the Word of God written on scrolls. Even though the game doesn't require you to read the scripture, you can hit the TAB key to pause and read the scroll. For weapons, you have various Swords of the Spirit. You earn up to eight different types of swords. Your character starts off with just the Spirit Sword that automatically recharges itself. The remainder seven are Gold Sword, Drill Sword, Lightning Sword, Solomon Scepter, Tri-Repeater, Moses Staff, and Beam Sword. Each of these must be recharged by finding replicas of them throughout the catacombs. The effect of each weapon is different and they increase in power through the list. So, you only obtain the more powerful swords as you progress through the game.
To demonstrate the variety of levels, a list as given at Catechumen's web site are: The Parthenon, the Bathhouse, the Temple, the Coliseum, the Prison, the Barracks, Royal Burial Chamber, Abandoned Construction, the Catacombs, Underground Farm, Lava Tunnels, Giant Cave, Conversion Chamber, Castle Dungeon, Castle Courtyard, Inner Castle, Satan's Chamber, and Inner Sanctum. As you can see, this is a fairly involved game requiring many hours of dedication to finish (and a lot of saving and restoring!). And even if you finish the game, N-Lightning is working on the sequel named Ominous Horizons! So, rest up while you can!
Christian Perspective: There are two stances you can take on Catechumen. One is against and the other is for it. I am obviously for it. Even though there could have been more Christian content, N-Lightning does an excellent job of presenting a commercial-quality game containing a Christian theme. Catechumen could sell (and I believe is selling) in the secular market! I found zero sexual references and no bad language. If you want to stand against it for whatever reason, that is your choice. However, if it sounds acceptable to you after reading this review, then I encourage you to download the demo and try it. Furthermore, buy the product if you enjoy it.
Highlights:

I love the lighting! As your sword fire/light energy progresses down the hall, the light cascades along the walls! It is really cool in some of the larger caverns! And each weapon is different and the lighting is changed appropriately. The level design is excellent as well. A good variety of tunnels and architecture that makes sense for the environment being represented.
There are five skill levels to choose from. These are Fledgling, Easy, Normal, Hard and Impossible. I haven't replayed yet to see what the exact differences are.
I found the controls to be well-done. It does take effort to learn how to jump properly. Also, you can turn an option on so your character runs all the time. Crouching is well done. Some items can be pushed around and learning how to do it takes some practice. Every keyboard command can be changed to better suit your needs.
The sound and music are excellent. I'll admit that some of the demon sounds are a little funny when you first hear them. However, once you are immersed in the game, they start sounding eerie! And some are eerie the first time you hear them! The sounds you make as you walk or run are appropriate. One giveaway that there is danger ahead though is you will start hearing the creature's sound. While this is a great help, it did detract some from the gameplay.
When was the last time you got goose bumps from playing a game? If you experience that often, skip this paragraph. Also, skip this paragraph if you intend to play the game as it may spoil one of the goose bump opportunities. During the game, you will come across an arena where, more than likely, Christians had to take on some hungry lions. As you approach the arena, N'Lightning cranks up some heavy-metal sounding music. Of course, you are anticipating a lion and having a few skulls and crossbones littered about the arena lets you expect a similar fate. All along I've been thinking, what kind of damage would these "light" weapons do against a real-life lion? I am thinking I can't do any real damage to any lions. Therefore, I go in ... no lion! Several doors are there though, some are open. I leave and explore a couple of areas and have to return to arena later. Well, I must have opened a door somewhere, because this time there is a lion! Ack, I didn't expect that and who turned that heavy metal music back on? Here I am running around like a headless chicken trying to run away from and shoot the lion at the same time! Low and behold, I look at my arm and there are goose bumps! Two points for N'Lightning as they got me fully immersed on that one! Side Note: When the heavy metal started playing, for some reason Geoff Moore's song "Why should the devil have all the good music" popped to mind."

Areas for Improvement:

The 3D engine could use updating. It is playable but could be better to keep pace with industry.
Some areas could have been more polished. For instance you can sometimes see creatures or the glowing of items through the walls. Once in a while, the scripture verse on a scroll won't fit and it spills over. Excessive jumping can cause the player to do some strange things including defying gravity. Also, is it really possible to wear armor and swim?
Some aspects of the game that didn't correspond to the time period (171 A.D.) appropriately. For instance, the guards were playing with a deck of modern-day playing cards (Bicycle brand?). The language in general is in English, but that is a good thing for us single-language folks. Further, some dialogue of the voice actors demonstrated modern-day usage/slang.
It would be nice to be able to sheath the sword (so you can run and jump without this sword hanging out in front of you). Other games of this genre allow the player to use the fists as a base weapon. I'm not sure I'd want to go pounding on those demons and fallen angels, but healing hands, touch of caring, or love tap would've made the game more interesting.

Conclusion: Catechumen represents an industry-quality Christian game that some may find too realistic! For that reason alone, give it a try. Be sure to support N-Lightning if you enjoy it (they have a downloadable demo available, but the review was based on the full version).

---

Disclaimer: I don't play First Person Shooters (FPS) everyday as they aren't my favorite genre. So, in comparison to the latest overly-tuned Quake III engine, the 3d-genesis engine may not be a good compare (but I can't make that comparison). But it is as good as the Star Wars: Dark Forces 1 & 2 which I have played.

Why is Catechumen rated Exceptional?

Even though Catechumen involves shooting, it is ranked exceptional for a Christian game at Shepherd's Staff. "Why?" you ask. Because you are shooting demons and other evil creatures using swords of the spirit. Plus no blood and guts. The creatures are banished in a brilliant flash of light. And the Roman guards, once freed of their demons, pray to God on their bended knees. It is also one of the most professionally made Christian game in the marketplace! If you are absolutely against "shooters," then you would rank Catechumen into marginal or unacceptable categories.
"Finally! A great Christian Title for the PCs!"

Heaven's Quest uses 3-D graphics and high-quality sound that gets your attention while you play this unique board-style game that weaves in Bible questions. It reminds you to use prayer often to keep your grace at its maximum value. There are real Bible characters that can accompany you. They are called Buddies and help you in your trials and give you two more squares to move on your dice roll. Of course, there are temptations along the way. If you succumb, you lose some grace and the rest of your movement for that turn. The test is selecting from one of 12 stones. Some have the names of the apostles and one (or more depending on your level of grace) has Judas Iscariot's name on it. Choose wisely.
Something you don't see in many (any?) games today is a true 3-D feature! That's right, the old blue & red paper glasses come with this game! No worries, you can turn this feature off if you want.
There are four possible players and several selections for difficulties (it should be feasible for a 5 or 6 year old to an adult enjoying the game). The cute animated icons that you can select from are:

cute baby (looks like the familiar dancing baby)
an older woman in shorts
a knight in full armor
a man in a space suit

Yes, they are unique. But does anyone question the thimble or iron in another popular board game?
The obvious goal is to reach Heaven. The winner of the game attains that (although anyone truly wanting Heaven can be there).

The official description of the game from Top Meadows is:

Heaven Quest - A Fun Game for the Whole Family
Heaven Quest is a very special computer game with stunning computer graphics, a musical soundtrack, animated movies, and over 1,000 Bible questions. Easy to play for Kids to Adults, Heaven Quest is a Family Friendly game in which the players journey together from the Gates of Eden to the Resurrection of Jesus. Along the way they will meet many Bible Buddies, face Temptation, receive God's Gift of Grace, and learn about the many treasures in the Bible.
"The Biblical Alternative to MystTM"

"Nacah" means "adventure" in Hebrew. This game is an adventure game in the vein of Myst. You begin the game in a dark room and must first figure out how to turn on the lights. From there, you work through puzzles that require you to have your Bible in order to solve them. The primary goal is to solve your way off of this small set of islands you're stranded on.
Christian Perspective: This game is very Christian because it requires you to use your Bible constantly throughout the whole experience. Also, any negative content such as violence, sexual content, language, drugs/alcohol, etc. is nonexistent. This game is very much for everyone old enough to grasp the puzzles.
Highlights:

Graphics. I know of one other Christian adventure game, and this one's graphics exceed it by a good amount. The graphics in Nacah are a little below those of the original Myst game.
Animations. The animations were of good quality and were easily the best part of the game.
Innovation. Requiring the use of the Bible is a new angle never before seen in adventure games (or any other game for that matter, except possibly Bible trivia types). The game suggests a King James Version Bible, but I found that the parts of the Bible referenced are most likely cross-translation and should work with pretty much any version.
Making of. There is a video included where the author explains a bit about how he made the game. It's very interesting, and I sure wish I lived close to an old, abandoned mining community (except for the lack of Internet!). Turns out he created the whole game by powering his computer with gas generators. Wow!
Music and Sound. Cheyenne (the creator of the game) is very talented musically and plays multiple instruments, enabling him to compose and perform all of the music for the game by himself.

Areas for Improvement:

Graphics. While better than most Christian games out there, the graphics do pale in comparison to the current crop of adventure games in the general (secular) market. The compression used to ensure the game fit on one CD was too noticeable (especially in the animations). Sometimes the compression and/or lighting prevented from you seeing something necessary to solve a puzzle.
Linearity. This was extremely frustrating. You can't travel back to areas you've left to collect things you've missed, so if you miss something, you won't know you can't complete the game until you've reached the last area, and by then it's too late. I ended up using a walkthrough to finish the game, not because the puzzles were impossible, but instead to ensure that I would pick up all the pages. Even if you save a bunch of games, it's pretty much impossible to know where to begin looking for that page you missed.
Hidden items. This is more a pet peeve I guess, but I just don't like it when the solution to a puzzle is hidden somewhere you tend not to look. There seems to be at least one of these types of "puzzles" in every adventure game, though, so maybe it's just me.
Sound. A small beef, at times the sound quality was a bit low in that hissing was pretty audible. A little annoying, but tolerable.
Too short. The whole game in its entirety could almost be used as a demo for a larger game. There are only a few areas of puzzles, but I realize it's difficult to make a long game with a one-man development team.

Conclusion: Nacah is a promising entry for Christian games into adventure gaming. Although I'm not too sure why you need a biblical alternative to Myst (Myst is rated E and doesn't have any negative elements in it), this game does a pretty good job of giving you an opportunity to learn some things from the Bible while enjoying an adventure. I look forward to the next game from this company, Derek (which was improved and re-released as Isles of Derek).
Shepherd's Staff

Christian Ratings of Computer Games

Acceptable games are mostly unoffensive to Christians but could take advantage of more opportunities for Christ.
Shepherd's Staff

Christian Ratings of Computer Games

Marginal games are offensive to Christians in one or more ways.
Shepherd's Staff

Christian Ratings of Computer Games

Unacceptable games' strong points exceed their moral benefit. These are definitely offensive to Christians.
Commandos:Behind Enemy Lines, review by Tim Emmerich

A World War II inspired game.
The year is 1940. Europe has been crushed by the Axis powers. Great Britain still stands because of God's sculpting of the English Channel. Otherwise, the Germans would have waltzed through London by now. Yet, Britain cowers in fear, thrown on the defensive and being decimated by bombs. One Lieutenant Colonel is uncomfortable being on the defensive. Colonel Dudley Clark believes a small team of commandos could help sway the war. These men are the best of the best, skills honed to perfection, physical strength unequaled, yet a mind capable of controlling their inner beast as stealth is as important as brute force. Hence, these brave Commandos go Behind Enemy Lines.
Commandos is a real-time strategy game. It should be called a real-time challenging game. You direct a team of commandos on (nearly impossible) missions. As the player, you are in charge of each of the commandos. Each can be doing something independently or you can send them to a location as a group. Your team is given a set of objectives for every mission. Then you are free to come up with a strategy and execute it. Your strategy will change as you learn about each Commando's unique abilities. After completing the mission, you will be debriefed. Based on how quickly you executed the mission and how much damage your team sustained, you will be given merit points. Earn enough and you may just move up in rank. Note that you start out as only a Lance Corporal!
There are six unique Commandos to direct in order to accomplish the mission. One gameplay strongpoint is that the formula for success is not set in stone. For instance, you can jump in the tank and blast away with its machine guns. Or you can get in the truck and speed around, running over guards in your path. Or you can crawl around to your mission objectives, slow but effective (and the only option in many missions).
This is not an easy game. Since you are in charge of a small team, you must use stealth. Once detected, it is very difficult to survive. So, save the game often! They have a quick save (Ctrl+S) and a quick load (Ctrl+L) feature.

Presentation:

The sounds are well-done. They have voices for each of the commandos that are distinguishing. However, there are only a fixed amount of responses from them. A nice feature is that the sound is screen specific. As you scroll around the map and get closer to a sound maker, you will only then hear it. This is useful to let you know of approaching vehicles. Also good for the Green Beret to test out the range of his noisemaker. But, it can be bad if you miss the activity of an enemy vehicle until it is too late to hide.
Commandos does an excellent job of setting the mission stage. Each mission has an historical introduction, some with old black and white film footage. And then the specific battlefield will show the major objectives and some suggested strategy.
As the campaigns shift from the cold fields of Norway to the desert heat of Egypt, the commandos' attire changes appropriately. Nice polishing touch.
The controls are acceptable. One annoying control is the right-click to disengage your current action (like holding a gun and right-click to put it away). This doesn't always seem to work on the first click. Also, there are some actions that will cause your commando to leave the crouch position! Like setting or picking up the bear trap. This can get you detected quickly, so beware. It is sometimes easy to accidentally click while trying a different action. Before you realize it, your commando who was supposed to be laying low is crawling right into the enemy's line of sight. Hence, the reason to save often.
Furthermore, the game also utilizes the "multiple cursor" method to highlight your different options. That means if you have a commando selected and move your cursor over an item that the commando can do something with, the cursor changes to reflect that. This is called the activation pointer. For instance, select the Green Beret and move the cursor over a barrel. The activation cursor will show up (looks like a hand utilizing a joystick). By clicking when the cursor is active, it will cause him to pick up the barrel. Right-click to cancel the activation, in this case dropping the barrel. You can also issue a different command like "hand" and your cursor becomes a hand (by clicking on the hand or hitting the 'H' key). It will change to a opening & closing hand if you are over something you can pick up. This is a frustrating part of the game as that cursor needs to be at a certain point on the object. It isn't always right over the object as you would expect, so you find yourself "circling" the object with your mouse until the cursor changes. Then you need to left-click for the action to take place. I believe the trick to this is to still treat the new mouse icon/pointer as a regular mouse pointer, so position it just to the right and below the item you want the action to occur on. Additional frustration arises when you click and the cursor isn't active (so a red circle with a slash through the hand), the game thinks you want the commando to move there. Lastly, the mystery of crates wasn't revealed in the manual as it said just use your hand! In fact, you had to do the "use of devices" which is a commando-specific command. It is believed that this was due to the crates being specifically useful to a particular commando (more dynamite for Sapper or more ammo for the Sniper).
Most things can be mouse driven, but keyboard shortcuts come in handy. Number keys are assigned to a commando, this is a nice feature. However, you don't have every team member on every mission. So, it can get confusing when you keep hitting the "5" key for Tread the driver but you get no response because he isn't there. The keyboard shortcuts are not always obvious. Like 'T' for releasing the 3-man raft or 'W' to use the pliers.
This game reminds me of Jagged Alliance (JA) because you get familiar with the main characters. But Commandos' real-time strategy is definitely similar to Command & Conquer (C&C). So Commandos is a unique blend that is well done. There are some features that would have been nice within Commandos. From JA, you can look at the path a mercenary would travel shown as black footprints. This would let you know that going a certain direction might put you in harm's way because of obstacles. From C&C, the feature to group several troops together and then assign them a number would have been nice (draw a box around them and then Control key plus a number key). Then that group could be reactivated with that number. Instead, Commandos requires you to right click and drag a box around the multiple commandos you want selected, each time you want them selected.
The artificial intelligence (AI) is pretty good, although one could argue they just increased the difficulty to give the perception of AI. The enemy guards do react to footprints in the snow, but totally ignore bloodstains! The guards do usually ask you to halt before shooting, but not always. There are some guards assigned to stay at a certain post no matter what, some that patrol, and some of both of these types that will investigate sounds or footprints. One could say the AI is really just well designed missions with the difficulty in setting up the timing and function of the enemy guards. The guards are obviously 'programmed' to do certain things. Slinking between these many obstacles without getting detected is like solving a puzzle. This is where some of the strategy is required. As you remove some of these "puzzle pieces" it helps.
Commandos did a good job of integrating various vehicles. However, it takes getting used to driving a truck using a point & click method. You can drive a tank, truck, helicopter and others (although some you 'ride' in at the end of mission without getting to control them). Plus several enemy-controlled vehicles and some that are part of the setting (train).

What comes with it:

The manual, albeit small, is well written. Although it may not be needed as much since the game gives excellent introductions to each scenario. Some useful things in the manual are what all the shortcut keys (hotkeys) are and a description of each commando. Also, there was a separate one sheet "guide" that informs you how to successfully complete Mission 1. Very useful for newbies.
Warning, warning: The gameplay is addictive! You will be saving and restoring a lot as you find a certain strategy sets off the enemy's alarms. Because the missions are difficult, your strategic mind will be challenged and you will find yourself asking "What if" scenarios. Pyro Studios did a good job in providing many alternative solutions. For example, you have choices in how you use your team member that is the spy. Once the spy obtains a SS uniform (can be found on clothes lines), he can distract a guard! No need to kill him unless he will see something he shouldn't. To demonstrate the violence in this game, a different Commando can come up and knife the distracted guard in the back. Or the "water" commando can shoot him in the back with a harpoon or gun, or the spy can poison him. Indeed, since the game is popular and there are follow-ons, the Commandos have picked up the nickname of the "dirty half dozen"!

Christians beware:

It is a wargame with killing and destruction involved. Some try to justify violence since it is associated with war. If you are an adult, then you can make the judgment call to play it or not. There are some Christian alternatives like Catechumen available.
If you do play it, you will give your hard drive a work out as you will have to reload many times (so save often!). Also, look into the hint guides available on the Internet.
Shepherd's Staff

Christian Ratings of Computer Games

These games are unworthy to waste any time on.
go to ... [ Links ] [ Linking ] [ Reviews ] [ Shopping ]

Send Feedback to GraceWorks Interactive | © 1998-2012 GraceWorks Interactive, All rights reserved.